Testimonial of Puan Leela Mohd. Ali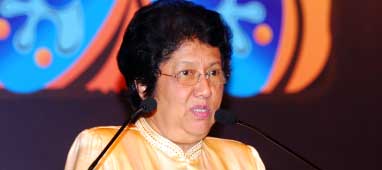 Madam Leela is the personality behind the success of the Malaysian Batik Crafted for the World Movement, which includes the Piala Seri Endon and the Kuala Lumpur International Batik Convention. The Malaysia batik Crafted for the world Movement was initiated by the late YAB Datin Paduka Seri Endon Mahmood, the First Lady of Malaysia. Madam Leela is also the 'moving force' which has lead to the incorporation of Persatuan Batik Malaysia. She is the Chairman of Persatuan Batik Malaysia.
Currently, she is the CEO of Yayasan Budi Penyayang Malaysia, a charitable foundation.