Tribute to Datin Seri Endon
Inspiring a stunning comeback of an ancient craft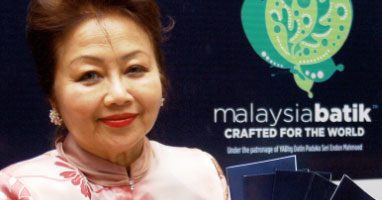 Batik has been a part of Malaysian culture over centuries. Soon after Independence it was adopted as the national attire for formal occasions as the nation began to build a new identity. Over time interest in batik dwindled. It became a forgotten tradition.
It was the late YABhg Datin Paduka Seri Endon Mahmood, wife of the Prime Minister, YAB Dato' Seri Ahdullah Haji Abmad Badawi, that gave batik back its dignity, raising its national status, expanding its creative potential while forging an international presence in fashion wear.
She began a vigorous campaign, Malaysia batik - crafted for the world which inspired the industry to go beyond the ordinary into the high end of fashion. It was a strategic move to brand Malaysian batik and build a presence that was unique and far removed from generic expectations and expressions of batik as it existed around the world.
Presented by Limkokwing University 2005
Mokara Datin Seri Endon – a specially bred orchid for a special lady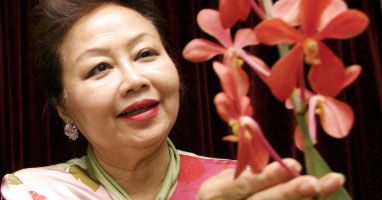 Mokara Datin Seri Endon
was specially bred by the Malaysian Agriculture Research and Development Institute (MARDI) and presented to her in May, 2005. Being a highly creative and artistic personality the orchid inspired her to transfer its distinctive colour and features into a batik collection.
She took a personal interest in developing the collection. A creatively adventurous person, she was always willing to try new things, constantly experimenting with new materials. This enthusiasm has inspired the batik industry to an extent that today we see batik applied in exciting ways, on cotton, silk, satin and even lycra. The Mokara collection shows how batik can be elegant and fashionable. The orchid is designed to bloom in a stunning manner on gowns, cocktail dresses, sportswear, leisure caftans and even swimsuits.
Presented by Limkokwing University 2005
An extraordinary woman with a passion for the arts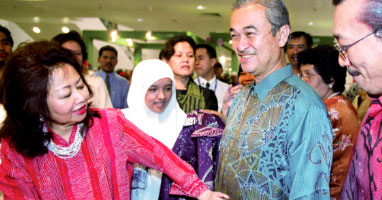 Datin Paduka Seri Endon has always loved the arts, in all forms and expressions. For batik she had a special fondness and made it a point to wear it with pride. The support of the Prime Minister Dato' Seri Abdullah Haji Ahmad Badawi gave her the impetus to develop a full campaign to revive Malaysian batik with new identity and verve that would win it a place in the world of high fashion.
Within a short time she managed to bring it to Europe, arranging showcases at fashion capitals where Malaysian batik received recognition for its distinctive colours and designs.
She set up the Batik Guild to strengthen the local industry by gathering them under one umbrella. She injected new ambition into the rural batik industry encouraging them to be involved in the exciting new changes that she was creating for batik.
Innovative expressions of a new generation - Endon's legacy for batik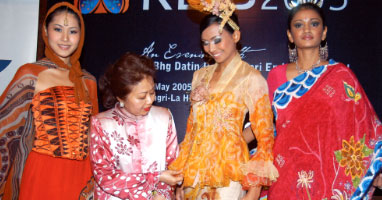 Datin Paduka Seri Endon fired up the imagination of young designers using street carnivals and competitions to draw their interest. She knew that the involvement of young people was vital for the future of batik. Now that she had begun the revival, it needed to pick up momentum.
The Piala Seri Endon let loose the floodgates of creativity of the young. Batik began to be applied in new ways. Young and unknown designers responded with great enthusiasm and with professionalism that delighted her.
The winner of the first competition, Masrina Abdullah, had her designs shown as part of the Milan Fashion Week in September, 2005. For Datin Paduka Seri Endon this was her greatest legacy to batik, that it should grow through the innovative expressions of the next generation.