Council Members
Eleonora Saskia Bergvelt
MA Art History 1974, University of Amsterdam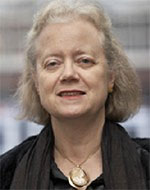 PhD. defended 14.1.1998 (title:
Pantheon der Gouden Eeuw. Van Nationale Konst-Gallerij tot Rijksmuseum van Schilderijen (1798-1896)
, for which I received the Prof.dr. H.W. van Os prize (2000).
Relevant positions:
3. Dep. Cultural History of Europe, University of Amsterdam for Cultural Studies and Museumstudies, since 1 January 1992; Program Director of the Master Dutch Art in European Context (since September 2003); Program Director of the Master Museum Studies (since September 2004); Associate Professor (UHD) since 2004.
2. Curator for the arts prior to 1900 (exhibition department) of the Netherlands Office for Fine Arts (1 January 1986 till 1 November 1992).
1. Lecturer at the Art Historical Institute of Utrecht (1 August 1976 till 1 January 1986 (Department of Modern Art and Department of Architecture).