Council Members
Leesa Hubbell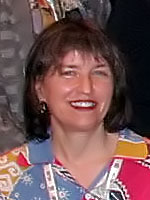 A well-known figure in the US design and fashion industry, Leesa Hubbell first studied batik at the age of 16 at the Arrowmont School of Arts and Crafts (Gatlinburg, Tennessee) and graduated from Xavier University in Cincinnati, Ohio, with a one-woman thesis show of batik, shibori and hand-woven textiles in 1978. From her base in New York City, she has designed rock and roll interiors for MTV Networks and printed textiles for fashion companies like Gap and KBC International, Germany. She has also collaborated with Javanese artisans in Bali to design a batik fabric and clothing collection under the Nusantara label. At the invitation of NYC artist Gayle Brown, Hubbell co-created a memory quilt for Arnold Schwartzenegger's wife, Maria Shriver, to mark Mother's Day in 1999.
Hubbell currently curates collections of antique and vintage textile documents for sale to the fashion and home furnishings design community, conducts courses in professional development and fashion business at the FIT and writes for the Surface Design Journal and FiberArts magazine on fashion, design and the business of creating.
Hubbell was the guest curator of Batik Fashion/American Style at the American Textile History Museum, Lowell, MA, in 2005. It was an exhibition of the works of seven American designers committed to exploring the batik medium to create fashion for body and home.