Council Members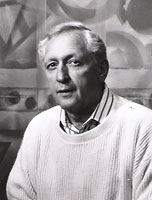 With degrees in philosophy, language and music, Utah-born artist Ray Pierotti expresses visual language in a sequential manner or suite. Through this approach, he explores a single subject's broad colour and structural potential, working on several paintings based on a single subject. He is drawn to modern Eastern and Western physics, philosophy and mysticism; he merges them in his paintings, which reflect "the landscape of the soul" and geographical scenes.
His early paintings and designs were inspired by music. Following extensive travels to Asia and Europe, Ray gained invaluable cultural experiences which were to influence his approach to painting. His work is now centred on inward and outward expressions.
Ray has more than 500 paintings on display at public, corporate and private collections throughout the US and 10 foreign countries.