Council Members
Janet Stoyel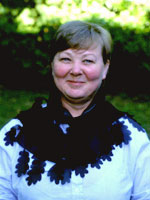 An adjunct professor at RMIT, Melbourne, Janet Stoyel has a Master's degree in Philosophy from the Royal College of London, a BA (Hons) in Constructed Materials, Weave, Knit, Carpet from the University of Central England, Birmingham, and a National Diploma in Design; Surface Pattern from the Sommerset College of Arts & Technology, Taunton.
A holder of two patents for laser and ultrasound process and machinery for the production of textiles, and five trademarks, Janet works with ceramics, metals, crystal glass and new textiles. In interior work, Janet has created installation pieces utilising woven metal and other techniques for many individuals and organisations, including the Sheraton Skyline Hotel, United Vintner and Channel 4 Television.
Janet works with reputable fashion houses developing textiles and collections, including Burberry, Paloma, Picasso, Paul Smith, Gucci and Donna Karan. She does ongoing research, development and commercial weaving of new hybrid materials for Sporl in Germany; she has done development and commercial concept work for Coates Viyella; ultrasound processing for furnishing applications for Monkwell and development work with Tencel denim and ultrasound for Courtaulds.