Council Members
Prof. Jayadeva Tilakasiri
Professor Emeritus, University Of Peradeniya, Sri Lanka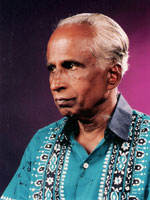 The winner of State Literary Awards for Sinhala and English books in 1959 and again in 1994, Professor Jayadeva Tilksiri has delivered lectures and participated in discussions at high-profile conferences and seminars all over the world. His published works include texts on Sanskrit literature, drama, aesthetics, poetry and religion. He has also published books on puppetry, shadow play, handicrafts and craftspeople of Sri Lanka.
As the Chairman of the Crafts Council, he has organised exhibitions and festivals for craft products, addressing the craftspeople on their future progress. He received the President's Award, Kala Kerrthi (Artist Of Eminence) in May 1993 and the Sahitya Ratna (Literary Excellence) award in October 2004. He holds a BA and a PhD.
A visiting lecturer on Asian drama from the Kelaniya University, he was given a Rockefeller Foundation grant as well as research grants from the University of Ceylon and various government departments.