Council Members
Fiona Kerlogue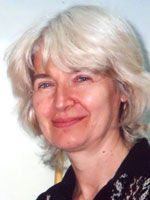 Born in Sussex, England, Fiona Kerlogue studied at Dartington College of Arts, the University of London and the University of Hull, where she received her doctorate in South-east Asian Studies (Anthropology). Her doctoral thesis was based on research undertaken in Sumatra.
Fiona is currently the Curator of Asian Anthropology at the Horniman Museum, London. Her recent publications include
The Book of Batik
for Didier Millet and
Arts of South-east Asia
for the Thames and Hudson's
World of Art
series.