Council Members
Tan Sri Dato' Prof Dr Lim Kok Wing
Deputy Chairman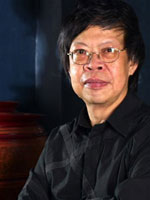 A noted corporate leader, communications strategist and educationist, Tan Sri Dato' Professor Dr Lim Kok Wing is a strong advocate of arts, culture and heritage, as well as an art and antique collector.
The Founder and President of the Limkokwing University College of Creative Technology promotes batik fashion, design, research and painting through its faculties and Batik Research Centre. A name synonymous with creativity, Tan Sri Lim encourages his students to apply batik to a wide range of materials and purposes --- from footwear and packaging to photo frames and greetings cards.
Tan Sri Lim works closely with the Government and major industries in areas such as brand development, content creation, design and multimedia, capacity building, international relations, youth development, humanitarian campaigns and nation building. He also heads scores of organisations, including the Malaysian Institute of Directors, Designers and Animators Guild of Malaysia, National Creativity & Innovation Institute, Malaysian World Peace Foundation and Malaysian American Society.